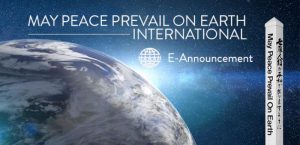 An Invitation
May Peace Prevail On Earth International
in partnership with
The Love Foundation
jointly hosts
The Global Love Day
Peace Pole Award
How To Enter The Awards
We invite participants to share their answers to the following 3 questions to enter the
Global Love Day Peace Pole Award.
A Peace Pole with the message May Peace Prevail On Earth
will be awarded to the top three winners.
Participants will be evaluated on the answers
they have submitted.
Peace Poles will be shipped to winners in time
to plant and dedicate on
May 1st – Global Love Day.
Deadline for entry is March 30th
(read the rules below and register to enter)
Answer these 3 Questions to Enter the
Global Love Day Peace Pole Award
How do you inspire others and yourself with peace and love?
What does it mean to you to celebrate our humanity?
Where will you plant your Peace Pole to share the message
May Peace Prevail On Earth and why?
Global Love Day
16th Anniversary • May 1st
Global Love Day is a symbolic day of unconditional love calling upon all peoples and nations to gather together in the wisdom of peace and love. Global Love Day is the universal recognition of our innate oneness through love. It is a day to embrace love and compassion.
Whether you join the Awards or not, celebrate Global Love Day by consciously focusing on love and what it means to you throughout this day remembering that "Love Begins With Me". Join people around the world in celebrating and expanding LOVE.
Planting Peace Poles
Peace Poles have been planted the world over as an international
symbol and monument to peace. They carry the universal message,
MAY PEACE PREVAIL ON EARTH translated into the languages of the world. Peace Poles are often called "acupunctures of the earth"
as they anchor a powerful message to awaken, heal and uplift the consciousness of our human family.
Join the Peace Pole network to plant peace one Peace Pole at a time.
Join Us!
Celebrate Global Love Day
For any questions please send us an 
email
May Peace Prevail On Earth
Peace Pole Cell Phone Wallpaper
ANNOUNCING
Goi Peace Foundation
International Essay Contest for Young People
20th Anniversary Special Edition
This annual essay contest is organized in an effort to harness the energy, creativity and initiative of the world's youth in promoting a culture of peace and sustainable development. It also aims to inspire society to learn from the young minds and to think about how each of us can make a difference in the world.
This program is an activity within the framework of the UNESCO Global Action Programme (GAP) on Education for Sustainable Development (ESD).
May Peace Prevail On Earth International
May Peace Prevail On Earth News Blog

Read about Peace Poles being planted around the globe, community events and World Peace Flag Ceremonies, plus so much more on our News Blog.

Crafted at The World Peace Sanctuary

Our low maintenance & weather proof Classic White Peace Pole. Each Peace Pole includes May Peace Prevail On Earth in 4 or 8 languages of your choice.
Daily Step Into Heaven #11
Step into Heaven with James Twyman Monday – Friday with these 1-2 minute videos. They promise to trigger the EXPERIENCE of your own Divinity! Just watch and enjoy! And join us for the Step Into Heaven daily conference call. Hundreds of people gather every day to take the lessons even deeper. Look for details at the bottom of this page.
But first…if you haven't pre-ordered James's new book "Giovanni and the Camino of St. Francis," do it today and receive over $350 in FREE gifts! 
St. Francis of Assisi is waiting…
"This is the first book I've written in seven years, and it's my favorite! The story appeared in my mind when I was walking the Camino of St. Francis several years ago, and it wouldn't let me rest till I finally wrote it down. I think you're going to love this book."

Order during the pre-release and receive all these gifts instantly:
1. Five music CD's from James
2. Ten movies taking you on a virtual Camino journey
3. Four part online course on the spirituality of St. Francis of Assisi
PLUS…
On March 20th three people who pre-ordered the book will receive these amazing gifts:
#1 All expense paid journey with James to Italy to walk the Camino
#2 The original Peace Troubadour guitar James took on his early peace missions
3. The walking stick James used to walk the Camino in September
To order the book and receive all these gifts CLICK HERE

Join James at one of his upcoming events and be one of the first to see his one-man musical "The Passion of St. Francis." CLICK HERE for the schedule.

Daily Step Into Heaven #11
You're going to love these short inspirational videos. Watch them everyday and share them with your friends! They're literally designed to assist you in realizing that you never left Heaven except in your imagination.
Daily LIVE Conference Call…
Want to join James and hundreds of others Monday – Friday? Our Step Into Heaven Conference Call is a powerful addition to this new program. Calls last around 20 minutes, giving you a BLAST of insight and energy to last through the day. Come see what the excitement is all about!
Monday – Friday, 2PM Eastern US time
1 (712) 770-4010, Code 660321#

James Twyman 4110 SE Hawthorne Blvd. #177 Portland, Oregon 97214 United States (503) 278-7331
The Spiritual Heart — is in a way a little like a smart phone, invisibly connecting us to a large network of information. It is through an unseen energy that the heart emits that humans are profoundly connected to all living things. The energy of the heart literally links us to each other. Every person's heart contributes to a 'collective field environment.' This short video explains the importance of this connection and how we each add to this collective energy field. The energetic field of the heart even connects us with the earth itself. The HeartMath Institute (http://www.heartmath.org) is helping provide a more comprehensive picture of this connection between all living things through a special science-based project called the Global Coherence Initiative (http:///www.heartmath.org/gci.) They hope to help explain the mysteries of this connection between people and the earth…and even the sun. Scientists at the HeartMath Institute (HMI) have already conducted extensive research on the power of heart, the heart/brain connection, heart intelligence and practical intuition. Whether personal relationships, social connections, or even the global community – we are all connected through a field of electromagnetic energy. Increasing individual awareness of what we bring to this field environment could be the key to creating a sustainable future, a future that we can be proud to have helped create. To learn more about this research please visit https://www.heartmath.org/about-us/vi….
.
.
What will happen when the landings arrive?
In this special downloadable archival Video, Sheldan presents a detailed guide to prepare us for the landings.
Only $19.95 U.S – Save 30%
You will discover that:
• there are no windows in Scout craft space ships. 
• the ships will appear all at once. 
• the space energies will calm you. 
• the initial broadcasts will be heard telepathically. 
• the landings will be like a divine vision.
To purchase your DVD: Click Here
.
.
.
MESSAGE FROM ALEXANDRA – MARCH 4, 2019