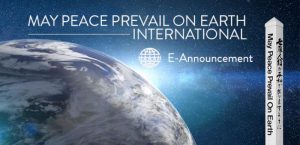 An Invitation
May Peace Prevail On Earth International
in partnership with
The Love Foundation
jointly hosts
The Global Love Day
Peace Pole Award
How To Enter The Awards
We invite participants to share their answers to the following 3 questions to enter the
Global Love Day Peace Pole Award.
A Peace Pole with the message May Peace Prevail On Earth
will be awarded to the top three winners.
Participants will be evaluated on the answers
they have submitted.
Peace Poles will be shipped to winners in time
to plant and dedicate on
May 1st – Global Love Day.
Deadline for entry is March 30th
(read the rules below and register to enter)
Answer these 3 Questions to Enter the
Global Love Day Peace Pole Award
How do you inspire others and yourself with peace and love?
What does it mean to you to celebrate our humanity?
Where will you plant your Peace Pole to share the message
May Peace Prevail On Earth and why?
Global Love Day
16th Anniversary • May 1st
Global Love Day is a symbolic day of unconditional love calling upon all peoples and nations to gather together in the wisdom of peace and love. Global Love Day is the universal recognition of our innate oneness through love. It is a day to embrace love and compassion.
Whether you join the Awards or not, celebrate Global Love Day by consciously focusing on love and what it means to you throughout this day remembering that "Love Begins With Me". Join people around the world in celebrating and expanding LOVE.
Planting Peace Poles
Peace Poles have been planted the world over as an international
symbol and monument to peace. They carry the universal message,
MAY PEACE PREVAIL ON EARTH translated into the languages of the world. Peace Poles are often called "acupunctures of the earth"
as they anchor a powerful message to awaken, heal and uplift the consciousness of our human family.
Join the Peace Pole network to plant peace one Peace Pole at a time.
Join Us!
Celebrate Global Love Day
For any questions please send us an 
email
May Peace Prevail On Earth
Peace Pole Cell Phone Wallpaper
ANNOUNCING
Goi Peace Foundation
International Essay Contest for Young People
20th Anniversary Special Edition
This annual essay contest is organized in an effort to harness the energy, creativity and initiative of the world's youth in promoting a culture of peace and sustainable development. It also aims to inspire society to learn from the young minds and to think about how each of us can make a difference in the world.
This program is an activity within the framework of the UNESCO Global Action Programme (GAP) on Education for Sustainable Development (ESD).
May Peace Prevail On Earth International
May Peace Prevail On Earth News Blog

Read about Peace Poles being planted around the globe, community events and World Peace Flag Ceremonies, plus so much more on our News Blog.

Crafted at The World Peace Sanctuary

Our low maintenance & weather proof Classic White Peace Pole. Each Peace Pole includes May Peace Prevail On Earth in 4 or 8 languages of your choice.