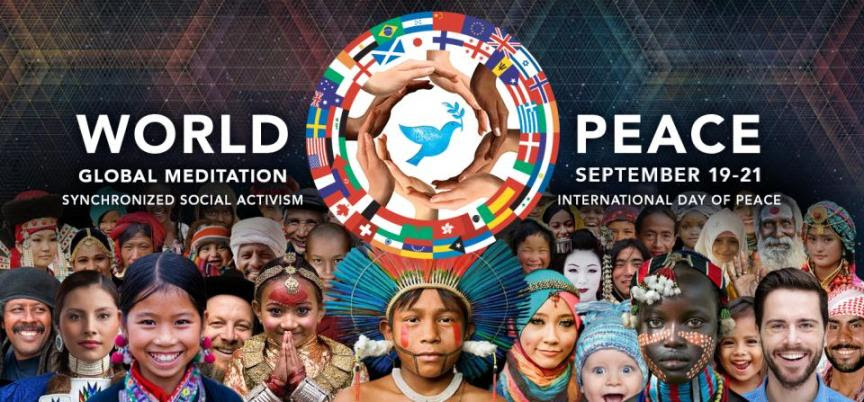 Fellow Lover of Peace:
Sept 19-21 is International Peace Weekend, and UNIFY will be hosting a 3-day digital gathering to celebrate and promote world peace!
Thanks to the evolution of consciousness and technology the world is now more connected than ever before.  Now it is possible for us to come together as one human family no matter where we reside and bring to life our deepest truth. In your heart you know that what we can conceive is possible.  You know, like we do, that world peace is achievable.
We are in a new era of connectivity and relationship, and all of the world's great spiritual traditions remind us that in truth we are not separate from one another, but that we are one.
It is precisely this knowing that lies at the heart of UNIFY.ORG.
It is time to BE THE CHANGE we wish to see in the world.  It is time to gather as one human family and bring forth into the world the peace that lies in our hearts.
Now is the time. We are the ones we've been waiting for.
No matter where you are, you can join us!  RSVP for World Peace Weekend by going to our Facebook Page and sharing this with your friends–and family, too!
People from all walks of life, from all corners of the globe, will be joining us to celebrate, meditate, connect, and share over the course of International Peace Day weekend. With your support, Peace Weekend 2015 will be our largest global synchronized meditation and social action event yet.
You are essential to our success! Join us and shift the consciousness of the planet!  Through meditation, action, and intention, we can stake our vision and shift our world!
Sept. 19-21, UNIFY.ORG will feature meditations, movies, teachings, lessons, and workshops on the topic of international peace!
If you're interested in organizing a live event during the weekend,
We are thrilled to have the following organizations standing with us to expand the consciousness of the planet:
Uplift * Special Envoy to UN * BeThePeace * Xanopia * Pathways to Peace * Art of Living * URI * Link Media * Shift Network  * Master Shift * Collective Evolution * Mind Unleashed * Harmony Connect * Spirit Science * Global Meditation * Harmonize * Moment of Calm * Prem Baba * Peace One Day * WorldWide Forgiveness Alliance * Forgiveness Challenge * Heart Math * MedMob * Gaiafield Project * Earth dance * 1 giant mind * Yoga Download *  World Peace Prayer Society * Symbiosis Gathering * IAHV * Do As One * Evolver Network * Elevate
We will be sending out further information soon about how to organize and host your own World Peace Day event.  Be part of this massive expression of peace and be the change you want to see!
UNIFY.org
P.S. Want more information? Our Global Coordinator is excited to answer any questions. Send an email to Jess@unify.org
P.P.S. Please share!!  Head over to our Facebook Page and post our message with all your friends and family.
If you're interested in organizing a live event during the weekend,