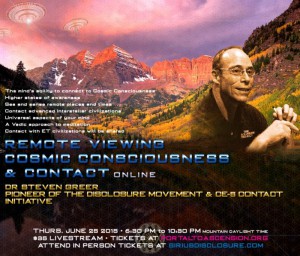 June 9,  2015

Please post and circulate widely
A Four Hour Training Intensive
with Dr. Steven Greer
Boulder CO – Thursday June 25, 2015 – 6:30 – 10:30 pm
(Mountain Time)
THE MIND BEYOND SPACE AND TIME: How to use Consciousness to Remote View and make Contact 
You are invited to Join Dr. Steven Greer for a special 4 hour training on how Remote Viewing works using the mind's ability to connect to Cosmic Consciousness and higher states of awareness.
By experiencing the quiet, expanded state of awareness, an individual can see or sense remote places and times. This ability, innate to human consciousness , enables us to Contact advanced interstellar civilizations using the non-local, universal aspect of our own minds.
A Vedic approach to meditation, Cosmic Consciousness and Contact with ET civilizations will be shared.
There will also be time for Questions and Answers .
This event will simultaneously be broadcast on the Internet as a Webinar.
The webinar is $35 US.  Click here to register for the webinar.
The live event is $75.
For more information and to prepare for this event you may wish to get :
Cosmic Consciousness: a course in advanced Mantra Meditation:  click here.
OR
The Contact Training Program : click here.
A limited number of tickets will be available at the door.
Please purchase in advance to assure your seat.
The workshop will be held at:
Wittemyer courtroom – Wolf Law Building – UC – Boulder
2450 Kittredge Loop Drive, Boulder, CO
For more information about the venue and parking please go to:
    ——————————————————————————