Ready for a Summer of Peace in Action?
Two upcoming events for BeThePeace Organizers
We're super excited about our BeThePeace event in 2015! The movement is growing. The world is ready. Are you?
We'll be in touch soon to launch this year's campaign. In the meantime, here are two inspiring global meditation events by our partners at Gaiafield Project and UNIFY.
Global Meditation Saturday June 20at 10pm GMT/3pm US Pacific to support a peaceful outcome to the USA-Iran nuclear negotiations. More info and register here.
Linking subtle activists for collective healing and social change
seeds of peace
 Seeds of Peace: Global Meditation – USA-Iran – June 20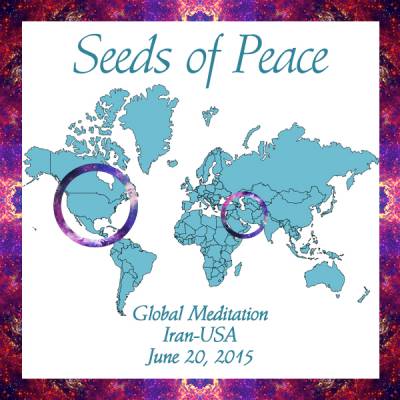 Seeds of Peace Global Meditation
June 20, 2015: 3PM PDT/10PM GMT
In support of a peaceful resolution to the US-Iran nuclear negotiations, due to complete by June 30.
Please join us on Saturday June 20 for a special Seeds of Peace global meditation in service to a peaceful outcome to the US-Iran nuclear negotiations, due to complete by June 30. This free one hour call/webcast will start at 3pm US Pacific/10pm GMT.
We are honored to be joined by Dr. Mirabai Starr and Dr. Andrew Vidich, who will offer prayers for peace at the start of our call.
In our meditation we will create together a multidimensional group field that serves as a vehicle for the transmission of higher qualities into the collective consciousness of humanity. We will plant seeds of peace in key government buildings in the USA and Iran and harvest the collective wisdom of our group through the sharing of individual insights. The practice offers a poignant way for you to contribute on subtle planes to a high stakes political process playing out on a global scale.
The meditation will occur via teleconference/audio webcast. Details are provided on registration.