https://www.heartmath.org/calendar-of-events/connected/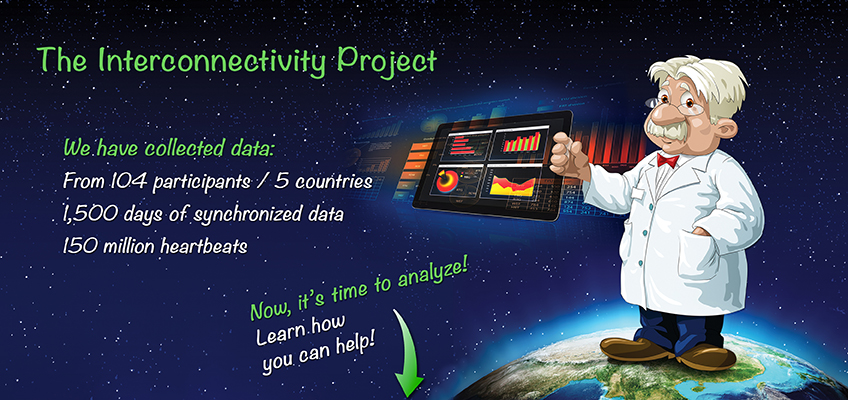 How is it All Connected?
The Science of Interconnectivity Project
Does a force, quantum-level information field or other essence connect humans to one another, animals, Earth, our universe?
As scientists explore these possibilities, evidence is mounting of a profound interconnectedness among all things. Consider HeartMath Institute's study showing the heart rate variability / heart rhythms of individuals in different locations synchronizing over 30 days. Does such a connection occur globally?
Researchers discovered heart-brain interactions between a mother and baby, and separately between couples sleeping. A boy and his dog's heart rhythm coherence increased when the boy intentionally "felt" love for the dog.
Researchers have made other surprising findings. Today we're focusingon types of interconnectedness between people and Earth's magnetic fields. We're following up on a study in which geomagnetic and solar activity were significantly associated with effects on mental functions and emotional states in a group of 1,600 participants.
These and previous exciting findings brought about the 2015 Science of Interconnectivity Research Project.
Two key areas of inquiry will be:
1. Do human attitudes, emotions and intentions affect our personal environment and the global field environment?
2. Does Earth's electromagnetic field carry biologically relevant information that connects all living systems?
We need your help to retain our adopted scientist, Heather Connery. She has analyzed data from solar and geomagnetic sources and the GCMS sensors. It's vital that her participants' physiological, behavioral and health data on a larger-scale heart rate variability study moves forward.
We Need Your Support.
Lend your energy and generous support to HeartMath Institute as we explore the new frontier of interconnectedness between all things.
Your contribution to the 2015 Science of Interconnectivity Research Project will continue funding for adopted scientist and data analysis scientist Heather Connery for another year. Also, HMI will use this funding for other research projects related to interconnectivity and the benefits of group coherence.
The extensive data collected from GCI's Earth monitoring sites worldwide that Connery and others have been poring over meticulously already has resulted in exciting findings about global interconnectivity. Help us take this research to the next level.
Researchers say that among other findings, certain energetic measures from Earth and solar activity produced what a number of study participants described as improved mental clarity and generally feeling better.
Now we're asking for your commitment to ensure the future of this research. One generous donor has already made a substantial financial commitment for data-collection work on our multisite interconnectedness study. This study was conducted with groups of people located near Global Coherence Monitoring System sensor sites in Saudi Arabia, Lithuania, New Zealand and California.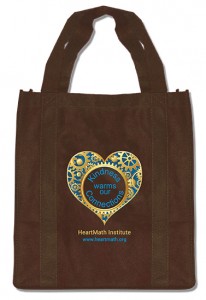 Support the Science of Interconnectivity research project so this important work can continue.
A Thank-You Gift! For one-time contributions of $35 or monthly donations of $5 or more, we'll send you a special tote bag inscribed with Kindness Warms Our Connections. Take this brown grocery-sized bag to the store, picnic, beach, or elsewhere.
$35 to $69 receive a Free Tote Bag.
Give $70 or more and receive two Free Tote Bags.
Pledge $5 (or more) per month and receive a FREE one year HMI Membership and a Tote Bag.
We sincerely thank you for supporting the Science of Interconnectivity Research Project.